Posted by Carlene Gabriel on 6th Oct 2016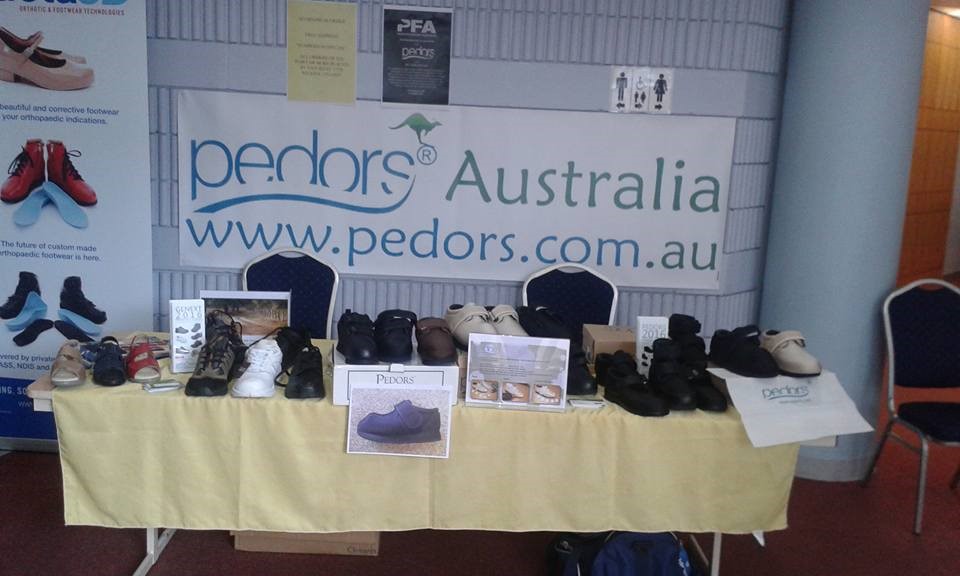 For quite a few years now FitnWell Footwear has been distributing Pedors medical grade orthopaedic footwear.Pedors is an American company run by two brothers from Liverpool, England Steve and John O'Hare. When you factor in our location in Australia it doesn't get much more international than that.
Pedors have been producing their specialist footwear for nearly twenty years and recently their millionth pair came off the production line!
Pedors export worldwide and in 2011 were named "Vendor of the year" by the Pedorthic Association of America.
It was with much faith in the quality and track record of the brand Pedors that we approached the Pedorthic Symposium in Canberra.
For the uninitiated the following definition is offered on the Pedorthic Association of Australia's website. "Pedorthics is the professional field concerned with the provision of medical grade footwear, orthotic appliances and appropriate advice to a patient after assessment and analysis of the patient's problem(s). This includes the provision of prefabricated footwear, alteration of prefabricated footwear, custom designed and manufactured footwear/orthotic appliances and advice on the need and application of medical grade footwear and orthotic appliances."
Despite feeling I was entering the classroom on my first day of school the welcome was warm and immediate from the members of the PAA and delegates alike. Casper O'Zinga, General Manager of the Pedorthic Association of Australia has encouraged me for some time to "come along" and he couldn't have been friendlier or more genuine in his appreciation of our attendance.
I was surprised at how the delegates "got" Pedors, in hindsight I shouldn't have been. Pedors offer some wonderful solutions for Pedorthists and their clients. The Pedorthist's knowledge and understanding of the unique benefits and advantages of Pedors was genuinely appreciated. Not all "professionals" have such thorough comprehension and confidence in the footwear they're viewing.
Thanks must got to Clare Nelson of Happy Feet Pedorthics for her support and for assisting me with a demonstration of the unique heat moulding properties of our Pedors Classic range. Thanks to all who said hello and came and checked out our unique footwear.
The friendly spirit evident at the Symposium made it a pleasure to be there and I look forward to next time.
Carlene Gabriel
Fitnwell Footwear
Pedors Australia